Isaiah 9:2
2 The people that walked in darkness have seen a great light:
they that dwelt in the land of the shadow of death, upon them hath the light shined.
Let us use the power of our minds and souls to make 2023 the year we bring about full disclosure of all the evil forces, both on and off planet, that are assaulting the planet and her lifeforms incessantly now. Let us use the power of our minds and souls to end the Death Culture and support all Life. Let us use the use the power of our minds and souls to awaken and be free. Let us welcome with joy THE NEW PARADIGM.
April 6, 2023
I know this is early for me to begin my Farm Series, but I already have volumes of material to communicate, beginning with these totally engineered "storm" atrocities that are now destroying huge swaths of land and homes and taking innocent lives across the entire country, in different forms. Here in NE Ohio, we are being hit with one for the past two weekends, and another this mid-week.
The first one hit on Saturday, March 31, the one the brought down the tree. The rain actually came before that, but it was the wind that hit on Saturday. I have never in my life felt a gust so strong. I told you all what happened in my last article, and I will just share my photos. I am so far behind in everything, since I have wasted so much of my precious time cleaning up what I have been able to so far, but these "events" are happening so fast right now, it doesn't even pay to clean up. Plus, being 60 hours without power. We usually do not lose power for such a long period, and I was not prepared for it. I am now, a little more. I am freezing containers of water, and making sure I have all three of my flashlights fully charged. Plus I have a good supply of drinking water, and have discovered that I can actually bring water to, well, not boiling, but hot enough to do dishes and keep my body clean by setting a cake pan filled with water over the edge of the kerosene heaters, which I obviously am not running now because it is getting into the 70s and 80s. My goal is to explore camping equipment so that when the grids go down permanently, I will be able to still mostly function. Another project I want to do is to build an outdoor cooking pit, which I plan to do in the greenhouse, so it will always be relatively dry. I have a number of cool designs which I will share at some point in these articles, plus I have an overabundance of dead wood.
Anyways, though the winds that Saturday were scheduled to peak gust later on, once that big one hit, things mostly calmed down. Here are a number of photos of my fallen sugar maple. First, here is a screenshot of my current Welcome Page. I wanted to use this, in case you have not seen it because of the particular font I found for the words "WEATHER WARFARE" which is called "Storm Gust." HAHAHA! Ya gotta keep a sense of humor here, and mine has been waning for a while now. But when I saw that font (I get my fonts from dafont.com), I had to laugh, plus it was perfect for the picture. And that's not all. The font I am using for this year's farm articles is called "Spring Snowstorm," which is also perfect. Anyways, here is the screenshot.
Here are more photos from the wind event, which was not actually a storm. I actually got three blessings with the downing of this tree, by the way, so other than the fact that it was beloved to me, it had been dead for several years. So in that respect, I no longer had to worry about it falling on the house, and those are two of the blessings. The third is that is did not fall on top of the well. It sort of did, but there is plenty of space for me to lift the cover when I bail water. But it did fall on my poor daffodils that were getting ready to bloom. I think I can move quite a bit of it out of the way, because dead wood is much lighter than live. In the last photo, you can see how close this tree was to my house. At the top you can see the bottom of the trunk, and at the bottom, the bottom stone step to my porch, which is about three feet away, so I was indeed blessed. However, this wasn't just a matter of a blessing. I have been carefully watching the deterioration of this tree, and was pretty sure, just by where the most rotted areas were, that it would miss the house. I actually expected it to fall even farther to the west, but I guess that depended upon which direction the gust came from.
Incidentally, over two decades ago, its sister in the back yard suffered the same fate. After several years of deadness, which was apparently dormancy, it came to life again, and is nearly as big now as it was in its prime. Perhaps this will do the same, as there is a big chunk of the trunk still standing. But there is something a bit humorous here, too. On the left side, you can see a limb that remained. It is very long and the end of it sits on the edge of the porch roof. But that branch that's resting on it! I have tried to pull it off, and it keeps sliding closer to the ground, but even after everything else came down, it is STILL hanging there! In the second row, there is the limb that got caught up on my gutter. I was able to pry it off onto the porch railing, and I think I can pry it off that, too. Next are photos of the weeping willow branches that came down where I had my squash planted last year, and I am not sure I'll be able to move them, which really sucks. The last photo is another branch on the opposite side of the willow.
The following weekend, March 31-April 1, was scheduled to be a replay of the previous week. We had rain—not too much, but anything is way more than I need at this point, as my farm is pure mud and the greenhouse is ankle-deep in water in some places. My herbs are already abundant, so I need to get in there. Anyways, the winds came on Saturday, but the difference was, we got hit with an actual "storm"—engineered of course. And that is what is making them so violent, which most of my regular readers know. Tornadoes do NOT naturally stay on the ground for hours and miles; inland states do NOT naturally get inline winds of 90 mph; the lightning is terrifying, because it is being amplified with HAARP and other ionosphere heaters and microwave towers, along with the clouds that are laden with heavy metals. And these "cold fronts" are ALL ENGINEERED. Their passage comes violently.
So here in NE Ohio, we were under a "Slight Risk" for severe storms, and I keep my computer on and check warnings every few minutes, but the NWS/NOAA is not able any more to issue them in time, because the violence flares up in a split second. I had the greenhouse open and ready, as it is the strongest structure on my farm. Actually it is the only fully standing structure on my farm at this point. The indoor cats and Maggie know where to dive when they get scared. So by the time I saw the warning, it was already here. I scooped up Molly, and she is not light, and ran to the back of the greenhouse, where we huddled together. OMG! That wind shook and moaned and screamed and the rain poured, as Molly's poor little heart was pounding. Yet I could see out the door, and nothing seemed to be getting hit. It was all over in about 7-10 minutes, because these "fronts" move frighteningly fast. I left Molly inside, to check things out, and couldn't see any damage, and the power was still on. I checked my computer, and the Storm Prediction Center had put us under an Enhanced Risk. Kinda like closing the gate after the horse escapes, because everything became dead calm, as it did the previous week. So I brought Molly back to the porch and went to fix us lunch. About an hour or so later, the power went out, when absolutely nothing was going on, so I figured it would come back on soon, and it did, about five hours later. That evening, it occured to me that the greenhouse amplifies everything. A drizzle sounds like a downpour, and indeed, the rain gauge had only .08 inches in it. I walked down the driveway, and there was not so much as one twig blown into the path, so I figured the greenhouse had also amplified the sound of the wind, and the passage of the "front" was much milder than I thought. But the thing is, with all these people getting killed and entire towns across a good swath of the country getting wiped out, NWS and NOAA are beginning to get paranoid. GOOD. Maybe they'll speak up about the atrocities going on. Maybe when THEIR houses get destroyed and THEIR families get killed their tongues will loosen.
Next, the weather monsters only gave us half a week before the third "event, which happened Wednesday to Thursday, April 5-6. The Storm Prediction Center put all of Ohio under a Slight Risk in the Days 4-8 schedule, but by the time it came to Day 2, I believe, it had been upgraded to Enhanced, for all of Ohio, and the paranoid trend continued, extending the Enhanced Risk to the southwest, then putting the northwest diagonal across Ohio in a hatched risk for tornadoes (10%) and all but the southeast corner of Ohio under a hatched risk for 30% chance of damaging winds. But I could tell our local Cleveland office was not convinced, and the day went on, calm and relatively hot and gorgeous. Countrywide, yeah, there were a few tornadoes—the one in Missouri killing at least five people, but by the time it got to Ohio, the watches and hatched risks began to be removed. There were quite a number of severe thunderstorm warnings. Toward the end, my immediate area got put under a "Special Weather Statement," but by that time, the cell was already coming across the woods and didn't sound like a 55 mph mover, so I stood on the porch with Molly and Maggie, and it, too, fizzled. What I was NOT prepared for was the abundance of rain. Less than a tenth of an inch became .6 inches, but the overnight forecast for between a quarter and a half inch was only .08. They can't get anything right No wonder people ignore them. No, actually people just don't pay attention, and EVERYONE NEEDS to pay attention to these weather events because they can and DO KILL. And they certainly destroy. I wonder what happens to all these people who lose everything. How many have become homeless?
I think the most pathetic and unnecessary death/injuries happened in Belvidere, Illinois, northwest of Chicago when the roof of the Apollo Theatre caved in. Here are two articles from April 1 and a quote from the first one:
Death toll rises to 26 after tornadoes sweep across the South and the Midwest
1 dead, at least 28 injured after roof collapses at the Apollo Theatre in Illinois following dangerous storms
About 260 people were at the venue to attend a heavy metal concert and calls about a collapse began to come in at 7:48 p.m. local time, Belvidere Fire Chief Shawn Schadle told the AP.
I'm sorry, but people who attend a CONCERT or ANY ENTERTAIMENT when the area is filled with watches and warnings for deadly weather are terminally oblivious to what is going on around them. Talk about being out of touch with nature. Of course, this is NOT natural, but weather is weather, no matter how it is being formed. I would NEVER under any circumstances, leave my farm if any watch or warning was posted for my area. NOBODY should be out and about during these storms unless their jobs concern public safety, such as medical workers, firefighters, police, ambulance drivers, utility line workers and rescue squads. Even worse, two areas were under HIGH risk that day, and I do not believe in all my weather watching days I have ever seen such a swath of storm/tornado warnings at such a high level a probability. Here are more storm articles. DELAWARE! OMG, the last tornado death there occurred in 1983!
State and Local Agencies Respond to Severe Weather and Tornado Damage
Here's more weather articles. This was from Wednesday. That "shelf cloud" is NOT NATURAL. I would bet it is AEROSOLS.
Massive shelf cloud darkens sky over downtown Chicago
My opinion is that rebuilding is a waste of time until this insanity stops. And even then, how much longer do we have on this planet?
Missouri communities face a long road to recovery after a storm leveled homes and left at least 5 people dead
Missouri tornado kills at least 5 people, causes widespread damage: "It's just heartbreaking"
Several states ravaged by deadly tornadoes could see more twisters this week after violent storms kill 32 people
And one last article from March 29.
Another storm is expected to bring more snow and flooding to California
The Weather Channel is notorious for making totally unnatural, engineered weather events seem normal, often by giving them cutesy names. In fact, these are from their new "Weather Words" feature. I wonder how much they get paid to foist these lies upon the public. Like this. C'mon, those are aerosols, to be sure.
Mamma Clouds: What Causes These Hanging Pouches?
I'm not saying this doesn't have historical significance, but what we see in the spring, and all year, is totally engineered.
Lamb Storm In Spring—It's Not A Gathering Of Lambs But It Does Impact Them
Hmm. Remember how much I have written concerning HAARP and this totally unnatural lightning?
Blue Jets Shoot Upward In Storms
Yeah, right, we don't see these very often because they are probably not real. I mean, seriously, have YOU ever heard any of these terms? And I REALLY follow meteorology. Rain foot? My ass!
Here's What A Rain Foot Is
As I always do, the Farm Articles will be the platform I use during the growing season to discuss weather and environmental issues, so be sure to check for updates. I will end this first issue on a more pleasant note, beginning with photos of my daffodils, which are quite in bloom. I have so many varieties, and they don't all bloom at once, so I can enjoy them for an extended period of time. The first photo are miniatures, and they are usually the first to bloom.
And finally, here is the garlic I planted last year, up and growing, and looking fairly healthy. But of course, what is above ground isn't as important as what is happening below, so I hope they are all busy forming nice big cloves. I have hardneck, softneck (which I have not grown before) and elephant, so it will be nice to sample all the different varieties, and maybe I will learn to really like garlic! I enjoyed what I grew last year (in small portions!). The first view is looking south, toward the greenhouse door, and second is looking north toward my outdoor containers. My French sorrel was up and growing, so I uncovered it and something had it eaten by the next day! But it grows fast.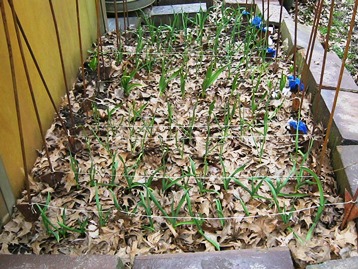 Since it is finally warming up—actually getting really hot, I no longer freeze here at my computer, so I should be able to get back to normal in posting my materials on a regular basis, at least until my time is taken up with farming. But if it continues to be hot, and I think we are all gonna be getting hot, I can start much earlier and not feel such urgency to get everything planted.
All material on this site copyright © 2023 by Laughing Crow.
This site designed and written by Laughing Crow.