Isaiah 9:2
2 The people that walked in darkness have seen a great light:
they that dwelt in the land of the shadow of death, upon them hath the light shined.
Let us use the power of our minds and souls to make 2023 the year we bring about full disclosure of all the evil forces, both on and off planet, that are assaulting the planet and her lifeforms incessantly now. Let us use the power of our minds and souls to end the Death Culture and support all Life. Let us use the use the power of our minds and souls to awaken and be free. Let us welcome with joy THE NEW PARADIGM.
April 20, 2023
I have been pleased to see so many people reading my first Farm Article of 2023, along with my other articles. I have tons of weather and environment-related information to share, as I did not want to make the first issue too long. First, let me begin with Dane's Geoengineering Watch Global Alert News, April 15, 2023. About ten minutes into the podcast, he speaks about the "script changing" and that California was not scheduled to get rain. Cautiously he stated that maybe, just maybe, those on the inside are beginning to wake up, due to the hard work of so many people to bring about disclosure concerning climate engineering, and because of that, they are beginning to pull back. That is one of the most positive statements I believe I have heard coming from him, and he would not say something like that on a whim. If he said it, he had a good reason. The thing is, did you notice that all those tornadoes we had here in the central and eastern part of the country just stopped. I know there have been other terrible weather issues, which I will get to, but normally, as soon as we here in NE Ohio just think about getting hot, we get some kind of fake "cold front" which usually includes lots of rain and severe weather. But we actually had a peacful week, and I finally accomplished a great deal, and got caught up on long-overdue updates on my website, plus I cleaned my table out on the porch and brought out my coloring books. I am about two years behind in my projects because all I have had is weather misery, except for last summer when I spent all my time farming. Several days ago we were under a marginal risk for both severe thunderstorms and flash flooding. Gratefully, I got neither, and again, had a mostly peaceful, calm and dry day. Toward the end of that day, we got put under a "Special Weather Statement," but all I got here was a couple puffs of wind. Then we went back to cold, and now it's hot again, then we're going back to cold, but not too cold. Dane also made the statement that the weather controllers can't keep a large part of the country cooled down at once, or something to that effect, meaning that it is out of control, or at least that's what I thought he meant. I might add that, if you remember the speech Lt. Colonel Theresa Long made in the documentary, Died Suddenly, which included a laundry list of diseases and ailments now afflicting members of the military, it would seem to me that they will eventually lack the people needed to carry out these programs, as I have stated numerous times. The energy is shifting, and though it will take many deaths, it WILL shift. And it better happen soon. The rest of Dane's report was not good news, and I agree that abrupt climate collapse, in fact everything collapse will happen soon. That's why I have decided to devote my regular articles on spiritual matters.
Let's begin with the numerous articles I've been saving, beginning with California. OK, so yeah, they needed the rain, but what they are getting is horrific, and of course, thousands of acres of ruined crops to go along with the people who are now homeless, jobless and ruined.
Thousands of acres are underwater in California, and the flood could triple in size this summer
Global Research first published this in July, 2022, and I believe I did, too. but it's worth publishing again. It has probably increased since then as more people lose their farms.
Bill Gates Granted Authority to Buy 2100 More Acres of North Dakota Farmland
Here's more on flooding. OMG! This is terrifying, but I can tell you, as one who has been measuring rainfall for the past forty years, people have NO IDEA how much water pours down in those cloud-seeded, totally engineered torrential events.
Rough Estimates Suggest Staggering Amount Of Rain Fell In Florida
Holy Shit!
Flood Rushes Into Fort Lauderdale, Florida, Parking Garage, Submerging Vehicles
In Dane's link above, he also made the point of saying, once again, that when the population realizes what has been done to them, the proverbial pitchforks and torches will come out and people will go after anyone and everyone who participated in this agenda, including those who helped cover it up. I would love nothing more than to see all these liars at The Weather Channel locked up.
Warmer Weather, Snow Melt Causing Flooding Concerns In Midwest And Plains
And one more on the Florida flooding. And it is NOT just "climate change." "Climate change" is NOT happening on its own. What bewilders me is that people not only keep moving to these areas, but building in them. WHY IS THAT PERMITTED? Do they think this is all just a fluke?
Fort Lauderdale airport to remain closed until Friday morning after the rainiest day in the city's history causes severe flooding
And here are some gross food facts. Honestly, I can hardly tolerate going to the grocery store any more. Not only can I barely afford anything, and prices go up each week, but I KNOW that nearly everything labelled as "food" is most likely toxic, even what is supposedly organic and Non-GMO. But most "foods" are NOT labelled. Since the entire planet is nothing but a sea of poisons, from the air to water to soil, therefore food, no matter how carefully and conscientiously it was grown, how can we expect to eat healthy any more? Again, that's why I am focusing my regular articles on how we can escape this toxic hell, and I will try to include everything I can muster up, from all perspectives, so that we can attack it from every angle. I am finding more and more positive articles that again, indicate a shift. In any case, these are disgusting. Dino-burger, anyone? Don't these people have anything better to do with their lives?
Startup makes giant meatball out of lab-grown mammoth meat
Didn't I tell you, numerous times, THIS would be happening, and we have NO WAY of knowing if we are eating something that has been tampered with in this way. How's that for "food security?" DISCLOSURE INDEED. PLEASE listen to the interview. And a word to the wise—NEVER eat restaurant food!! In addition to his possible explanations as to why these people are so bent on changing our DNA, I would add the biggest reason is ALIEN INTERFERENCE, and I have an upcoming article on that.
Eat Your Vaccines: mRNA Gene Therapy Is Coming to the Food Supply This Month
But I have to say, Naomi is embracing some gross misconceptions in other matters, most likely due to the fact that her husband "has been in the military intelligence community for many years". She says that "the globalists don't want the United States to exist, let alone be strong," then she mentions the food processing plants going up in flames and train derailments that never happened before 2020, which is blatantly false, but they are certainly becoming more frequent and getting more attention, and I have more on that below. She goes on to say that "China wants our resources but not our population, and that farmland is being taken over through fiat at the state level overriding town laws. She also mentioned Bill Gates, but the fact is, we CANNOT point a finger at China or the Globalists being the bad guys when our own U.S. Military is destroying the farmland in the first place, making it easier for these people and corporations and countries to step in.
So, the picture she paints is that China is basically invading the U.S. "for our resources." Really? Do some searches. Has China ever invaded the U.S.? No. Here's a quote: "China fought three wars in the 20th century: Against U.S. and U.N. forces in the 1950 to 1953 Korean War, a brief war against India in 1962, and another brief war against Vietnam in 1979." How many countries has the U.S. invaded. How many wars has the U.S. been involved in? And as far as being invaded for our resources? For anyone paying attention, 9/11 was NOT an attack by people in the Middle East. It was an inside job, which many people believe was instigated by George W. Bush in order to rally the American public against those peoples in order to support our military presence there, which has nothing to do with peace, but RESOURCES. ALL Americans need to stop blaming the other guy, and take care of their own dirty laundry first. But I wouldn't expect anything else coming from someone married to a military man.
Matthew 7:3-5
3 And why beholdest thou the mote that is in thy brother's eye, but considerest not the beam that is in thine own eye?
4 Or how wilt thou say to thy brother, Let me pull out the mote out of thine eye; and, behold, a beam is in thine own eye?
5 Thou hypocrite, first cast out the beam out of thine own eye; and then shalt thou see clearly to cast out the mote out of thy brother's eye.
For those unfamiliar about the VAST amount of evidence concerning the lies surrounding the official narrative of 9/11, please visit
Architects and Engineers for 9/11 Truth.
Over 3,000 licensed architects and engineers from all over the world have been poring over the evidence from that disastrous event for nearly two decades, and anyone who has investigated their research will find it impossible to believe what we have been told.
As Dane says in nearly every Global Alert News broadcast, none of what is happening now would be possible without the active or passive support of the majority of the U.S. population. And for anyone who reads the articles published by Global Research in Canada, it is obvious that the rest of the world does not see America the way too many Americans do. And as for the Global Elite not wanting us to be strong? Well, I know that the rest of the world is getting tired of U.S. bullying and tyranny, as are many American citizens, and it WILL come to an end, and soon, I believe. It will be bad for us here, of course, which will ripple across the rest of the planet, but what is going on here needs to stop NOW. For anyone who still has not read my last HAARP article, here it is.
We Have Met the Enemy and He Is Us, or, Betrayed by Our Own: HAARP Series #6
And now back to more food grossities. I don't think that's a real word but it works.
And it gets more complicated. To the point where conscientious people will be hesitant to trust any food on the grocery shelves. That would be me, of course, and probably most people reading this article. Again, as I have been saying, we have reached the point where we can no longer supply ourselves with what we need to sustain life in the old way, so therefore we must create what we need outside of the dying Old Paradigm. If the majority of the population on this planet weren't so ignorant and apathetic, this would not be happening, and we would be collectively transforming into our awakened selves. But that is not going to happen, so those of us that are ready must make our own paths.
GMO's Are Now Called Bioengineered in the USA: Why This Matters
And last, speaking of "food," here is an article from NPR that is way too long and over analyzed, as they try to prove that something that is in fact true is nothing but a conspiracy theory. Yes, certainly Bill Gates DOES want us to eat bugs.
From 4chan to international politics, a bug-eating conspiracy theory goes mainstream
The end of the monarchy, do ya think, maybe? Let's face it. Nearly every industrialized country in the world is probably being run by people committing acts of treason.
Disbelief as "Green King Charles" Gives Royal Assent to New Gene Breeding Technology
And to continue with the comments in the video I mentioned above, here's more about train derailings.
Train derails in Minnesota, catching fire and prompting evacuations
And Norfolk Southern, on and on . . . . The probability of actually "cleaning up the site," as in making it not toxic again, in my opinion, would be close to zero.
The Justice Department adds to suits against Norfolk Southern over the Ohio derailment
And explosions affecting food production . . . . This is the second time someone has fallen into a vat of chocolate in the past several months.
Woman who survived Pennsylvania factory explosion said falling into vat of liquid chocolate saved her life
And this one breaks my heart. All those beautiful, innocent cows. Methane might be the cause? Really? Another attempt to blame cow farts on the horrendous disasters taking place? People have been keeping cattle for probably thousands of years, and their farts were never deadly.
'Horrific' Explosion and Fire Kill 18,000 Cattle in Texas
Ah, but those clever people in the UK have a solution . . . . How so many people can get caught up in such total bullshit nonsense, while ignoring the blatant activity going on in the skies above us leaves me once again bewildered.
U.K. cows could get "methane suppressing products" in effort to reduce farm greenhouse gas emissions
And more fires and explosions.
Evacuations ordered as industrial fire spews "toxic" smoke in Indiana
New Jersey wildfire 75% contained as all roads to reopen soon, officials say
Here are some environmental odds and ends.
Hailstorm Hammers Missouri State Park
We're way past "uncharted levels," and it's not carbon dioxide that's the worst, it's methane, as Dane points out, if I understand him correctly. (From the melting permafrost, NOT cow farts.) But all combined spells disaster, and as he also points out every week, we are already in abrupt climate collapse.
Carbon dioxide hits highest sustained rate ever recorded as greenhouse gases creep toward "uncharted levels," NOAA says
What a stupid video. The Weather Channel, so go figure . . . . We've made progress on "healing" the ozone layer. REALLY??? And, hey, I thought all those fires were supposed to cool us down. Oh, yeah. There's a downside, eh?
Australian Wildfires Ate Away At Ozone Layer
And an equally asinine video from the same assholes who brought you the previous one. Duh . . . . No shit. What do you think chemical ice nucleation is all about?
How Snow Can Refrigerate The Earth
And here's good news. Bravo, Germany!!
Germany begins powering down its last three nuclear plants
Is this what happens to countries that fuck with the U.S.? I grow more and more ashamed of this country every day. I am so sick of living with this Death Culture energy. It is truly draining the lifeblood from all of us who abhor such behavior.
Turkey-Syria Earthquake: Is This An Act of Terror?
I lived by the Ohio River when I was working on my Masters degree at the University of Cincinnati. WHY are industries STILL allowed to dump toxins in these bodies of water? Again, I am bewildered.
The Colorado and Ohio rivers are among the 'most endangered' in America. Here's why
This is a good article. Scroll down slowly to access each page. But of course, nothing is mentioned about climate engineering. It said the Indigenous peoples of Alaska are working with the University of Alaska Fairbanks. Right. The ones that now control HAARP—supposedly, but almost certainly there is a former military official installed there. They even talked about the jet stream, and showed in a graphic the "Ridiculously Resilient Ridge," that is, the ionosphere-induced high-pressure dome that sat for, what, fifteen years? over Northern California. I have to keep wondering if all these experts are really THAT IGNORANT that they are oblivious to engineered weather, and continue to waste their time finding "solutions," all the while, evading the problem.
How melting Arctic ice could be fueling bigger wildfires in the Western U.S.
And more stories, these on the recent tornadoes in Oklahoma.
More severe storms could erupt today as rescue work continues after 3 died in Oklahoma amid tornadoes
Tornadoes in Central Oklahoma kill 3, cause widespread damage

Here are some air traffic stories.
Romanian TAROM Flight RO-7673 Diverted. 30-Year Old Pilot Had Chest Pain and Collapsed In-flight. Seventh Pilot Incident this Month
9 soldiers killed after 2 Black Hawk helicopters crash in Kentucky during training mission, Army says
"Hard to pinpoint what caused the extreme conditions that rocked [the] flight? I'd be willing to take a guess, and it will only get worse until no planes will be able to fly at all. Triple in the next three to six decades? HA! We will be lucky if we get three to six months, as things are going. If they REALLY want to "tackle the problem," they need to wake up and demand that all these ionosphere heaters being used to manipulate the jet stream be shut down at once.
Airline passengers could be in for a rougher ride, thanks to climate change
And here's what I've collected on Covid.
Archbishop Carlo Maria Viganò has been an outspoken champion to those who are speaking the truth about those who want to control the world. He is doing what ALL leaders of ALL religions should be doing, and I have great respect for him. Here is a quote from his speech which stunned me, and suddenly made me realize why the U.S. military forced their people to take the jab. I don't think they expected it to kill and maim so many, but again,. maybe, to them, it was worth the risk. Oh, my . . . .
Archbishop Carlo Maria Viganò: The COVID Pandemic Farce Served as a Trial Balloon for the New World Order
It also makes sense for an expert in medical patents, who immediately identifies the content of the invention and relates it to other similar patents. It also makes sense for an expert in war technologies who knows about studies on the enhanced man (a document of the British Ministry of Defense calls him "augmented man" in transhumanistic terms) and is therefore able to recognize in graphene nanostructures the technology that enables the augmentation of the war performance of military personnel. And a telemedicine expert will be able to recognize in those nanostructures the indispensable device that sends biomedical parameters to the patient control server and also receives certain signals from it.
And more children and young people are dead or disabled . . . .
Hemorrhagic Strokes (Brain Bleeds) in Young People. Brain Blood Vessel Damage Caused by COVID-19 mRNA Vaccine Spike Protein
Fatal Seizures in Young People: COVID-19 mRNA Vaccine Spike Protein in the Brain Causes Inflammation That Can Lead to Potentially Fatal Seizures
Strokes Are skyrocketing in Young People. Pfizer & Moderna COVID-19 mRNA Vaccines Showed Safety Signals for Strokes as Early as November 2021, But These Were Ignored.
The Covid "Killer Vaccine". People Are Dying All Over the World. It's A Criminal Undertaking
Spike Protein Accumulates in the Brain and Causes Infarcts, Bleeds, Inflammation – Pfizer & Moderna COVID-19 mRNA Vaccines Cause Severe Neurological Injuries
U.K. Oncologist Warns Cancers Are Rapidly Developing Post-COVID Vaccination
Doctors have reported that suicide is also one of the effects of the toxic jabs, because of the effect they have on brain function. I believe it was Karen Kingston that also mentioned that. So, is this another jab fatality?
Grief and shock as K-pop star Moon Bin, member of boy band Astro, dies age 25
The Covid Plandemic: Fear Is the Name of the Game—The Legal Approach
Media Covers Up Tracking of Unvaccinated People
It is bad enough for a woman to make the misguided decision to get the jab, but to bring an innocent child into the world that will be horribly deformed or suffer from chronic illness for what will likely be a short life is deplorable.
Doubled Pregnancy Loss Rate, Raised Foetal Abnormality Rate and Concentration of Lipid Nanoparticles in Ovaries—How Could They Call This Vaccine 'Safe'?
OMG. Please tell me this can't be true. Are these people really THAT STUPID that they do not realize we are about to crash. I honestly believe the ones who believe they are in control, in fact, have NO IDEA just how bad the climate situation is. This one will make you want to vomit, and the thought that anyone still believes such buillshit is precisely why we are NOT going to have a mass awakening. OMG . . . .
Biden to Spend $5 Billion on New Coronavirus Vaccine Initiative Supported by Gates, Fauci and Republican Lawmakers
And more $billions . . . . WHERE is all this money coming from. Hmm. Let's just print more and raise the debt ceiling. Will someone PLEASE assure me that Biden does not have a snowball's chance in hell to get re-elected . . . . Oh, yeah, right. The likelyhood that there will BE another election is growing slimmer by the day.
U.S. Invests $1.5 Billion to Spur 5G Rollout Despite New Evidence of 'Devastating' Health Issues
And one last article in a class by itself. Let us fervently hope that all Musk's toxic projects, especially those 5G satellites, all go up in smoke.
SpaceX's massive rocket Starship explodes 4 minutes after liftoff
OK, so that's a lot of news, but I probably won't publish another one of these for at least a month, so you have plenty of time to check out the links. Now I just want to share my own weather stuff, plus some photos from the farm.
Dane mentioned in the GAN linked above, about the vast temperature swings, like drops of 30 degrees from one day to the next. It has been even more drastic here, and not just day to day, but between the daytime highs and nighttime lows, especially when they let the skies clear then spray the shit out of us with ice nucleation. The lows have been plummeting as much as 10 degrees lower than scheduled on those nights. The warmup began about the second week in April. April 8 rose to 59.9 after a frigid morning low of 26.8, then dropped again that night to a really miserably cold night of 29.3. The daytime high reached 66 degrees on April 9, then dropped again to 30.6 on the morning of April 10. But the daytime high was 73.2 degrees.
That night it only dropped to 35.2 degrees, and the high on April 11 hit nearly 80 degrees, and the NWS started putting us under Special Weather Statements for fires. I don't remember ever being put under fire weather alerts until maybe last year. OK, yeah, they keep those heavy winds coming and the humidity is low, and the trees had not begun to leaf out at that point, but what is on the ground is still mud in many places. By that evening, the low only went down to 49.1, and the high on April 12 was 84.7. We dove down to 48 degrees that night, then reached a high of 90 degrees! That's a rise in a matter of hours of FORTY-TWO DEGREES. That night we got even colder, at 47.1, and it WAS a COLD 47, heavily sprayed, then rose to 91 degrees, a rise of 43.9 degrees, which is outrageous and unnatural. The next day they decided to cool us down by dumping rain on us. This was last Saturday, April 15, and those little swirly cells were all around me—the kind that don't move, but stay in one place dumping tons of rain. There were several in my vicinity, which resulted in a flood advisory for some people but I, thankfully, only got a few sprinkles.
On Sunday, this big "storm system" was supposed to move through, but by the time it reached me, again, thankfully, it mostly fizzled out. The scheduled .43 inches ended up at .01, but the next day was miserably cold, and I could barely function. As I have said before, the chemical ice nucleation is what is most toxic to me and my creatures. I feel like I'm dazed, and Grizzly Bear gets a bloody nose or coughs up bloody phlegm. Molly gets really crabby and none of us had much energy. I had to run some errands amidst off and on frozen pellets and it only hit a high of 45 degrees, briefly, then began to drop in the afternoon.
Then Tuesday, though it began at 34.3, it was horrendously cold with dots of sNOw in a couple places, but warmed up to 49.6 degrees and felt downright hot. OMG! Nothing natural at all. Yesterday morning, we were under a freeze warning. Of course. After all these years, my Native Plums decided to blossom, big time. Every time I have a fruit tree or bush blossom, we get a freeze and it is NOT by accident. It's part of the crop crushing agenda, and the flowering trees around here have been spectacular for the past few days. Yet in the morning, it didn't feel that cold, and, upon examining them, it appears the plum blossoms didn't get damaged, but being Native, they are hardier. If the fruits had begun to form, they probably would have been ruined. Yesterday reached a nice high of 70.6 degrees, and we slept without a kerosene heater going, but it was cold this morning. The scheduled low of 47 became a chilly 42.6, then warmed up today to 88.5, again, a rise of 45.9 degrees in the course of a day—outrageous and unnatural. I suggest everyone buy a min/max thermometer that you reset manually every day. Once you begin to really pay attention to these weather anomalies, and keep a record of them, you have more fuel for your fire in getting people to pay attention to what's going on in the skies.
Anyways, here is some info on Native Plums. I got mine from Gurney's decades ago.
All About the American Plum
Here's my Favorite Seed Companies page. When I moved back home from Cincinnati and became serious about farming, I ordered tons of stuff from Gurney's, in fact, the woods I built in the five acres from my house to the road is basically a Gurney's woods. Then I found other companies I liked, and I think Gurney's got sold to another company. But when I was looking for garlic last year, they had what I wanted, so I ordered from them. I dug just a little with my finger a few days ago to get a peek at one of the bulbs, and that one seemed to be growing well, so I hope all my different varieties are successful this year.
Below are photos of my Native Plums.
Here is the second batch of daffodils, some of the fancier ones that bloom later. Now, beginning tomorrow, we have another string of cold weather coming, which is playing havoc with the natural world. It got way too hot for the daffodils, since they are an early spring flower, so their bloom time was shortened. The cooler days prolonged the later bloomers a bit, though. I have so many different colors and types. Doubles, some with long trumpets and some with short and some with very short, which I believe are called narcissus. I also have pink and peach and some pure white, pure yellow and lots of bicolors. The second photo is the last of my miniatures with exceptionally long trumpets. As of today, nearly all my daffodils are almost all withered.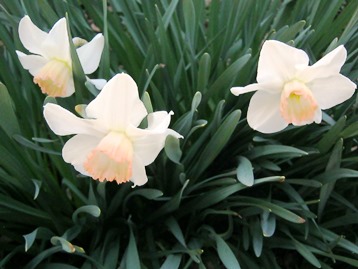 Here are my red tulips. I should have yellow, too. I was very excited to see that, after years of disappearance, my Lilies of the Valley have returned with a vengeance and should bloom soon, so I will have photos of those for the next issue.
And one last item. Several days ago, I realized my Eastern Red Cedar near the greenhouse is now growing at an angle, no doubt, pushed that way by the storm that brought down the maple. All, or most evergreens have that long tap root and very few spreading roots to stabilize them under stress, which is why I would never plant an evergreen next to a building. Or a Weeping Willow, which are the messiest trees on the planet. One puff of wind and there's branches all over the place. Anyways, since then, I've noticed a number a trees doing the "tilt." There was a whole row of them I saw when I was in Alliance today, which actually looked kind of comical. But what isn't comical is that fact that, ever since the storm that brought down my tree, there has been a power line pole down about a mile and a half from me on my way to Alliance. It is in a corn field, and is completely touching the ground, lines and all, right near the drainage ditch but not in the road. The two poles on either side of it are standing just fine. Um, you would think the property owner would contact Ohio Edison?? I mean, this was the area with the 60 hours of outage. And if Ohio Edison knows, you would THINK they would stand the pole up again so the lines aren't laying in the grass?? Again, things like this leave me bewildered. Below is the Eastern Red Cedar. The first I took in the afternoon when the sun was bright, and the second in early evening.
My next regular article will be related to the book Letter to Earth. I hope many of my regular readers have been able to purchase the book or borrow it from a library. I believe you can even borrow it online at Internet Archive to read a bit at a time. That will come along sometime late next week or early the following week. The next item I publish will be the review of the book about Mohandas Gandhi, and I hope everyone reads that, too, as I will also be using that material in my articles.
All material on this site copyright © 2023 by Laughing Crow.
This site designed and written by Laughing Crow.