Nearly every day now I wake up with that feeling of dread, and wonder what new misery the climate engineers are going to force us to endure. And so I continue to put forth more and more effort into stopping them. This is NOT the way I planned to live my life. That could be me saying that, or Dane, or thousands of others, whether they fight for disclosure of the truth concerning climate engineering, 5G, 9/11, vaccines, GMOs, or all the other creations of this miserable pack of vermin who think they have the right to do whatever they fancy. The point is, once you REALLY understand the situation, it is IMPOSSIBLE to sit back and shut up. If you are a person who always has more important things to do, then I ASSURE YOU, you do NOT UNDERSTAND the situation. No, this is not the way I planned to spend my life, but I am quite certain it is why I'm here. And it is why YOU are reading this article. GET TO WORK!! We need you!!!!
There is a strange merging going on, a bringing together of the warring factions, that is, those descendents of the Reptilian race, or those who are its agents, and those who are the Bringers of the Dawn. It is bringing together the physical and the non-physical; it is bringing together the ALL of what we know of this life and beyond. I've felt a strange detachment, even as I continue to relentlessly push myself towards my goal. Towards OUR goal.
As one side strengthens, so does the other, until we meet in the middle and there will be an explosion of energy. It is imperative that OURS triumphs. The desperation of the controllers continues to force them into creating more and more horrific atrocities each day, not just the disaster in Texas, but the increasing attempt to make everyone get a vaccine, and now these volcanoes and earthquakes, that make me greatly suspicious. Volcanoes, remember, are a way to cool the planet. And add to that, the now incomprehensible level of lies and confusion being spewed by the presstitutes, so that as the TRUTH moves closer to being revealed, there will be fewer to believe it. Or so they hope. And add to that the higher doses of mind-control concoctions being dumped on us every single day, makes every day a race against time, and as Dane always says, time is not on our side. Thus, as their desperation increases, ours does, too. I feel like I am fighting for my life, non-stop. If you don't feel that yet, rest assured, you will soon.
It appears that southern California will be the next place to be severely hit with chemical ice nucleation. Then we in the east get hot, and with the heat, we get deluged. I have a feeling that if we do NOT stop it, we will not only have non-stop rain all summer, but they will be using ice nucleation even past winter. Then there's these horrific, violent, cold, cold winds, so we can count on weather misery every day now. And there are STILL people who do not notice! Here are Friday's NOAA Outlook Maps for March 10-14, for temperatures and precipitation. As usual, the Great Lakes, Ohio Valley and Mississippi Valley get deluged. It will NOT STOP unless WE STOP IT. Very soon, there will no longer be the possibility of pleasant weather for anyone, anywhere. You will either suffer from flood, drought, freezing, burning, earthquakes, volcanoes, or every other intolerable condition you can imagine. Remember, the root of this activity is NOT HUMAN. So, what will happen WHEN they DO stop spraying? We don't know, but at least we have a slim chance of life. Right now, we do not.
Wednesday we got to 61 degrees. Sunshine, too. You would think it would have been a nice, comfortable day, but it was NOT, unless you stood out in the sun. Obviously I let all my kerosene heaters go out. I mean, one would think if it was 61 degrees outside, it would be even warmer inside, but the temperature dropped to 50 degrees, plus there was something dripping off my roof. Since all the ice was long-gone, and the sun was shining, my only conclusion was that they had dumped ice nucleation chemicals on us, even with the sunshine. My hands and feet were numb with cold. At 61 DEGREES!! It was a miserable day.
Thursday they desperately tried to make it snow. A few flakes here and there, with a howling wind that was so cold it felt searing on bare hands. Is that how it will be all summer? Yes, probably, UNLESS we STOP it NOW. That's how it was again Friday. The temperature dropped to 17.1 degrees Thursday night. After a high of 61 on Wednesday. Up and down, up and down. Nothing in nature can withstand this weather whiplash. Plants, trees, animals are all dying. We will be next.
Then there was that "between-a-tenth-and-a-quarter-of-an-inch" of rain scheduled this past Sunday, which turned into an inch—most of it coming during the day, and the rest as a "line" of storms moving through at 1:30 a.m. on Monday. We should NOT be having frontal storm lines passing through NORTHEAST OHIO in FEBRUARY. Add that to all the "snow" melt, which was not really water, and here is what my south field/woods looked like. The point is, right now the planet is SO HOT, that it's out of control, so the climate engineers continue this insanity to hide that fact, which only makes it HOTTER, FASTER.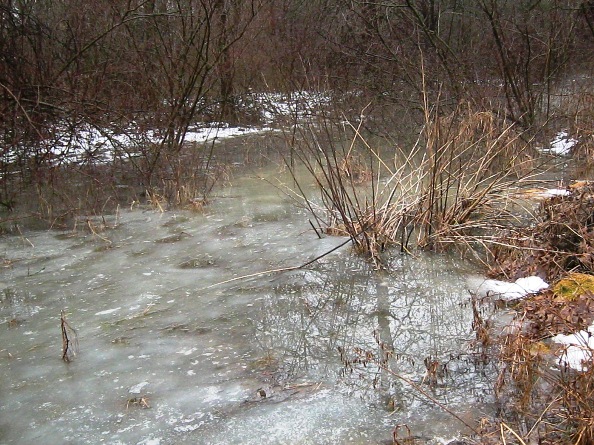 And so I sit at my computer, day in and day out, which is NOT what I want to be doing. The ice nucleation numbs me from the inside out. It is painful to move the fingers in my right hand. The cold seems to have settled there. But I can't stop—will NOT STOP until this comes to an end. I am tired and overwhelmed. Dane has sent me more materials to distribute. I will do anything and everything I am able to do to help him. As I said above, there is a coming together of everything. We cannot move forward, spiritually until we put an end to the force that is keeping us locked into where we are. Meanwhile, the controllers are again, desperate to get as many people vaccinated as possible. Kill them, or permanently damage them. THAT'S the goal. In his recent Geoengineering Watch Global Alert News, February 27, 2021, Dane spoke of all the adverse reactions, including deaths, officially reported on the CDC website. He points out that this is only a fraction of the total that is not in the official reports. Here is the website.
CDC Wonder
Scroll to the bottom and click Vaccine Adverse Event Reporting. Scroll to the bottom of the next page and click "I agree" below the disclaimer, and if you have script blockers on your browser, you will need to "allow" the page, or disable the blocker. Then click VAERS Data Search. You can then click "send" at the top of the page, or you can fine-tune the data you are seeking.
I want to mention the success of my first trip to Alliance to distribute Dane's booklets. Since then, he's sent me the second package with flyers, DVDs, and bumper stickers. He wants this material distributed as quickly as possible, especially since The Dimming is to be released next week. EVERYONE needs to order materials, or download them for free, and distribute them where you live. I will hit Ravenna on Monday, because I know way more people and businesses there, and my first trip to Alliance was successful. Laundromats are a great place to leave materials because people often sit there with nothing to do. My first stop was at a laundromat, where the only people there were an older couple. Of course, I spoke of Texas, and the anomalous weather we have here in NE Ohio. The woman listened intently, and in the end, took more booklets to hand out. I also warned her about vaccines. I left booklets with cashiers, the bank teller, and my favorite—customers in line at stores, especially if it's a long, slow line, which would be Walmart. This time, it was an employee who was pushing a big cart and had to pass in front of me. She apologized profusely, and I told her the six-feet thing was a bunch of baloney, along with this whole scamdemic. She laughed and agreed. She told me of a woman who had come in carrying a yardstick. Oh good lord have mercy. Anyways, we got to talking, and she was very interested and awakening, so I gave her a handful of booklets. I like this one-on-one communication, rather than just sending them in the mail. And like Dane, I have SO MUCH DATA on the tip of my tongue (though nowhere near what he does), so I can just talk away and competently answer just about any question. Everyone reading this should be able to do the same. If we want to reach our spiritual goals, we must deal with the force that is keeping us bound. STOP the spraying and everything will change. Educate yourselves so you can awaken others.
One more comment, then I will share the volumes of material I have saved. The lies being perpetrated by the controllers are becoming increasingly absurd, as mentioned above. I still believe QAnon was created by AI—a gathering of all the "conspiracy theories" that show up online, mixing the truth with the ridiculous, such as the possibility that there would be another "attack" on the Capitol, and that Trump would once again be president. As I've said, as much as I loathe the man, he was not responsible for that obviously staged attack on January 6. And that person who claimed to be a "shaman!" OMG, what an insult to those of us who really are!! But look how many"intelligent" people, especially the "spiritual" ones, have been sucked into these lies. It is all part of the distraction. ALL OF IT. And I'm about getting sick of this Covid scam. I would bet that Covid is done and has been for a good long time. Now, as I said above, it's all about getting as many people as possible to take this TOXIC vaccine. Here are some articles.
Right. And I'm pretty sure he hasn't gotten ANY of them.
Fauci: 'I would take whatever vaccine would be available to me'
Normalcy?? As Dane has also pointed out, they are trying to make it sound like people are beating down the doors to get these vaccines, but there are more and more people refusing them, actually. And we are NOT returning to anything even remotely resembling "normalcy."
'A big, big deal.' Experts say the green light for Johnson & Johnson's vaccine helps bring US a step closer to normalcy
How is it different? It contains asbestos, perhaps??
The US is about to get a third coronavirus vaccine. Here's how it's different from the others
More "experiments" on human guinea pigs.
Everything old is new again: Repurposing drugs to treat Covid-19
The caption to this next story was "The President flexed sweeping wartime powers in a big leap forward for vaccinations as some states begin relaxing safety measures." I dunno, but to me that sounds like forced vaccinations are forthcoming.
GOP governors defy Biden's warning
Oh good lord . . .
Fauci Donates Personal Coronavirus Model To Smithsonian
Biden Says U.S. Will Have Vaccine Supply For All Adults By May, Prioritizes Teachers
Well, I'm glad they're throwing them out. If all those people were really beating down the door to get vaccinated, they wouldn't be spoiling, eh? It's just all such a mess—such a farce.
Accidentally Trashed, Thawed Or Expired: Reports Of COVID Vaccine 'Spoilage' Grow
Yeah, every day there's a hundred new variants. Do YOU actually know anyone with Covid?
More than 2,750 cases of coronavirus variants reported in the US
This one has to be the most absurd of all. Blaming COVID for avalanches??? Seriously???
It's the US' deadliest avalanche season in years. Experts say Covid is partially to blame
Here's a bunch of weather-related articles.
By the way, have you noticed that this TERRIBLE TRAGEDY in Texas just kind of disappeared. POOF! Replaced by millions of articles about vaccines. Hmm. Here's one we really haven't heard much about at all. KQMS mentioned it this morning on the news report before Dane.
Jackson, Mississippi, residents remain without water for more than 2 weeks after storm
And none of the ones about Texas even mentioned the REAL issue, being chemically nucleated winter weather. Yeah, these people SHOULD sue the power companies and not even CONSIDER paying those outrageous bills. But they should also wake up to what really happened and file CRIMINAL CHARGES against the perpetrators of that event. Here's another from Mississippi, and you can bet those are anything but "natural" clouds.
Strange-Looking Clouds Over Mississippi River in New Orleans
These chirpy "meteorologists" on The Weather Channel—if they really ARE meteorologists—make me want to gag. Tell lies with a big smile and make it all sound normal and natural.
And here's some serious flooding. Why are we not hearing about this from the MSM?
Aerial View: Kentucky Town Almost Underwater
Flooding Sweeps Away Camper in Kentucky
I will end this here, even though I still have a great deal more information. It will be forthcoming. I actually had this article mostly done on Friday. I took time to make another trip to Alliance, and spent more time than expected handing out materials and talking to people. The sun had come out and the winds calmed down, so it ended up being warm and comfortable in Alliance. But when I arrived home, I felt like I was in a totally different latitude. The minute I stepped out of my car, a cold blast hit me. Do I think they dump different amounts of toxic shit on different areas? Hell, yes, I've spoken of this before. When they spray these ice nucleation chemicals on me, my whole body gets numb with cold. All I can do is wrap up in a blanket next to a heater. So therefore, I did not return to my computer to get this published. Even now, this morning, wearing four layers of clothing, my hands are numb trying to type. So much of the past month-and-a-half has been WASTED just trying to function in this cold. I AM SO SICK OF THIS!! All those days originally scheduled to be in the 40s and 50s, have disappeared, replaced by 30s and lows in the mid-teens.
Just a couple more points. People need to be aware of the vast difference between feeling cold and the effects of ice nucleation. When I was a kid, I could play outside for hours and not get cold. But this ice nucleation process is endothermic, meaning that it absorbs heat. So it draws heat off your body, the air, and everything else. After such high volumes have been sprayed, as they have been this year, it penetrates into your bones and muscles, your house, requiring twice as much fuel to heat it. It not only makes metals painful to touch, it even has the same effect on fabrics—thus requiring more layers of clothing to keep warm. The tragedy is that too many people leave their homes, getting into a vehicle in their garage, or even a heated garage, then quickly moving inside to wherever they're going. When you try to explain the effects of ice nucleation to people, their response is often, "well, I never go outside." Oh, my, but these people are setting themselves up for an atrocious awakening.
The last point is that I listened to Dane's Global Alert News online, live from KQMS.com this morning. It is at 6 am, Reading, California, but 9 am here in Ohio. All these years I didn't know I could do that. Just click "Podcasts" then "Listen Live." If your browser has a script or ad blocker, you will need to disable it. Anyways, most of the presentation was on Bill Gates, and it is obvious that Dane has done some serious research. A lot of it I was familiar with, not so much concerning Bill Gates, but the GMO scene in general, including Kissinger, the Rockefellers, and their goal to control the population with food, and the depopulation agenda. I'm certainly not naïve, but this information gave me a sick feeling in my stomach. However, Dane ended it with the fact the Nature is beating them to the punch, so to speak, because the biosphere will collapse long before Gates or any of these Reptilian agents will be able to fully realize their agenda, a point he makes every week. Therefore, it is OUR JOB to work to expose the criminal activity of climate engineering/weather warfare. I am not going to go into what Dane covered, at least not now because I've not looked up this material myself, but I STRONGLY recommend, even if you have not listened to any of his other GAN reports, PLEASE listen to this one. It will be posted later today, usually not until at least 5 pm. If you are not concerned with global starvation, I suggest you rethink your priorities. It's bad enough that the planet itself will not support food production , but Gates expects to feed the world with his synthetic creations. Of course, HE won't be eating it. It is all too horrible to face, but face it we must, and it requires the efforts of ALL of us.
Laughing Crow is a modern-day Shaman
who has been immersed in the study of
metaphysics for 41 years. She is an
organic farmer, environmentalist, animal
rights activist, artist, and holistic healer,
(and a little bit of a geek).
All material on this site copyright © 2021 by Laughing Crow.
This site designed and written by Laughing Crow.