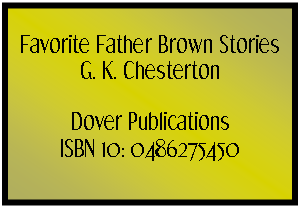 If you perhaps have in the past found Chesterton's books difficult to comprehend, by all means give these a try. They are delightful little detective mysteries without the political commentaries that Chesterton weaves into the storyline of many of his other novels, which can sometimes be confusing. These are clever and easy to understand, even if you are like me and a little dense with detective clues. The character Father Brown was based on a friend of Chesterton, a real priest named Father John O'Connor, but in the stories, Father Brown is a short, quiet, and frumpy little man whose appearance disguises his genius for solving crimes. This volume from Dover contains selections from Chesterton's first two Father Brown collections: The Innocence of Father Brown, published in 1911 and The Wisdom of Father Brown, from 1914. Chesterton later went on to write three more volumes.
The very first story, also Chesterton's first Father Brown mystery, introduces him, along with a criminal-turned-detective, M. Hercule Flambeau, who later becomes Father Brown's partner. In The Blue Cross, we find the "head of the Paris Police and the most famous investigator in the world,' Valentin, in hot pursuit of Flambeau. who has disguised himself as a priest and is traveling with Father Brown. Valentin thinks Father Brown is a little clumsy and absent-minded. Little does he know. . .
In The Sins of Prince Saradine, Flambeau is now a detective. He and Father Brown are taking a vacation on a boat, to visit Prince Saradine, retired on a lonely little land called Reed Island. Though Flambeau and Saradine have never met, through both of their rather notorious lives and careers, they know of each other. Flambeau still holds a visiting card sent to him by the Prince, and he and Father Brown are now taking up the invitation. But what they find is certainly unexpected.
The Sign of the Broken Sword unravels an historic event whose truth and accuracy were long questioned by Father Brown. Through much investigation and putting together the facts, he and Flambeau are able to discover the nasty reality and dastardly deeds of one who was believed to be a hero by so many.
In The Man in the Passage, Father Brown makes an emergency visit to the famous actress Miss Aurora Rome, upon her urgent request. But he is too late, and shortly after his arrival to her dressing room, she is murdered. This one involves mirrors and illusions, and knowing the difference between what is seen and what appears to be seen.
Flambeau returns to accompany the recovering Father Brown on a yacht trip with Sir Cecil Fanshaw along the Cornish coast in The Perishing of the Pendragons. Fanshaw tells a short history of the Pendragons which involves a curse by a Spanish sailor. Father Brown, still not quite up to par after his illness, hears little snatches of conversation that stick in his head. One, spoken by the ship's pilot is "Both eyes bright, she's all right; one eye blinks, down she sinks." He learns that it had to do with the coast lights, and navigation of this treacherous coastline, Later on, it proves to be essential information in uncovering a mystery.
The Salad of Colonel Cray also involves a curse, and disappearing mustard, vinegar, and oil cruets, and also some explanations for strange happenings.
Not typical "who dunnit" mysteries, these are unique and readable. None of the stories are very long, and the whole book can be read in a few hours. Quite different in style than typical Chesterton, and much easier to understand.
s T s T
All material on this site copyright © 2013 by Laughing Crow.
This site designed and written by Laughing Crow.