The designs in this book are very simple, so I created a challenge for myself that each one had to be done in at least two mediums, such as marker and crayon, acrylic and pencil, glitter paint and marker, etc.. The results were fabulous, especially when I used paint and crayon together.
In the first one pictured, the wax in the crayon made the paint bead up, creating an interesting effect, indeed.

The ones included here are as follows:
Crayon and Crayola Watercolor (at right);
Crayon and Glitter (below);
Neon Pencil and Neon Crayon (below, right);
Pencil and Crayon (bottom,left);
Acrylic and Metallic Acrylic (bottom, right)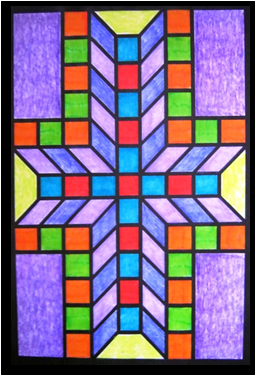 iiiiiii
All material on this site copyright © 2013 by Laughing Crow.
This site designed and written by Laughing Crow.