I love these stained glass coloring books with the great big and rather simple pictures. I can just splash my paints all over and see what turns out, and these turned out quite good. They are all pictures of tropical flowers, with several orchids, a few exotics, and others more well-known. I looked all of them up online, or in a catalog I have that sells exotic plants.
I did something a bit different with this collection: I mixed my mediums. I often use several mediums in one picture, but this time, I actually physically mixed acrylics and Crayola watercolors on the palette with interesting results. In addition, I used all my other coloring devices, too, like watercolor pencils and gel pens. Another thing I did differently than usual is that I used markers, which I usually reserve for "design" type coloring books, because they are not always easy to shade or blend. I included one here, with which I was quite pleased.
As usual, choosing which to post was a challenge. Out of the sixteen pictures, however, I could only eliminate nine, and here the other seven. Not only do I like my pictures, but the book itself is very well done.
Anthurium andreanum (Tail Flower), Watercolor Pencils
Aspasia lunata (Orchid), Markers
Cattleya mossiae (Orchid), Crayola Watercolors, Acrylics, and Gel Pens
(This is one where I mixed the two paints)
Hibiscus rosa-sinensis (Rose of China), Crayola Watercolors
I used a picture in Logee's catalog for this one, so the variety is a little different.
Lapageria rosea (Chilean Bell-Flower), Acrylics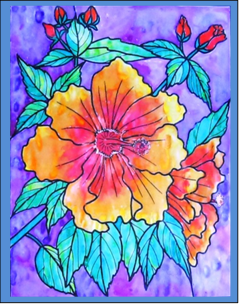 Passiflora x alato-caerulea (Passion Flower), Crayola Watercolors and Gel Pens
Ruellia macrantha (Christmas Pride), Watercolor Pencils
avavava
All material on this site copyright © 2017 by Laughing Crow.
This site designed and written by Laughing Crow.