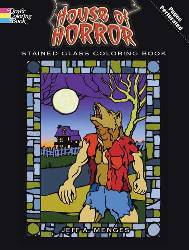 This is one of those fun-from-beginning-to-end coloring books! There are sixteen creepy monsters here, from the familiar to a few I needed to look up. I used all different mediums, and combinations of mediums. Each monster seemed to call out for a particular type of coloring and I think they turned out pretty darn good!! In fact, I had trouble choosing which to post, 'cause they were all my favorites. But here are the final ones I chose.

We begin with Vampire. I colored him with Crayola kiddie watercolors. I love working with them because you can just slap the paint on the page and let it run and blend, creating its own work of art.This one looks like a rainy night, which I didn't plan but I love the result. I also used glitter gel pens which you can't really see in the photo. The next one is Zombie, and it is also done with Crayola watercolors.
The Flying Dutchman turned out to be one of my favorites. Again, it is done with Crayola watercolors. (I had to look that one up, so in case you didn't know, The Flying Dutchman is the haunted ship, not the pirate.) The Mummy, however, I did with acrylics, including metallics to create the "jewels" surrounding the picture.
My camera is unable to do justice to the Witch, done with acrylics, mostly metallic, but then dotted with red glitter to give the whole picture the effect of a smoking cauldron in a musty dungeon. Banshee is done with gel pens, markers, and neon pencils, for a really cool effect!
And lastly we have Werewolf, done with watercolor pencils. If you haven't worked with them yet, do give them a try. They make it easy to create a very artsy looking picture with minimal effort. There are several ways to use them, but I just scribble the colors onto the page, then use a wet brush to blend them.
IPSHJKL
All material on this site copyright © 2013 by Laughing Crow.
This site designed and written by Laughing Crow.