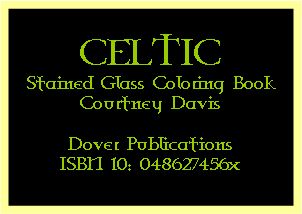 This is one of those books that I found particularly challenging. I think it is because I knew so little of the art style when I began, but I certainly know much more now. Celtic knots can be quite complex, especially when one is unfamiliar. I have a number of Dover books with CD-ROMs with Celtic designs, and I found them very helpful. One in particular, Full-Color Celtic Frames and Borders, is filled with modernized versions of this age-old art style. Though the pictures did not match exactly, it gave me ideas on how to be creative in my coloring. However, if you want to color this book accurately, it is essential to have access to The Book of Kells, because several of the pages are taken from that ancient collection, and I have included a couple. Dover has a selected collection called The Book of Kells: Selected Plates in Full Color which contained five that I needed.

Still, I found myself frustrated at first because I wasn't pleased with the results of my coloring. I had a hard time achieving the look for which I was aiming. I found that my pictures turned out better when I used brighter colors, especially in the backgrounds. But in the end I had more that I liked than did not like. Here are some of my favorites.
These two I both did with watercolor pencils, a medium that suited these pictures well. The colors are nice and bright, and I could blend and shade easily. Below, the first one is colored with markers. I actually wasn't planning to use that one, but when I saw it through my camera, it looked good, so I snapped it! The one next to it is also done with markers, but I left the background white to provide more brightness.
For the first of these, I used Crayola watercolors and had no problem at all achieving brightness! Though the next one isn't bright, I think it still turned out good. I used gel pens for the white outlines and border knotwork, and metallic pencil for the rest.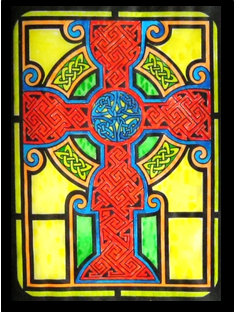 Here I have included a picture from The Book of Kells. It depicts the Four Evangelists: Matthew as a man, Mark as a lion, Luke as an ox, and John as an eagle. All four are included in the coloring book. I have posted Luke and John. I wish the pictures had been drawn more accurately, however, because it interfered with my ability to color them accurately. But they still turned out very cool. I used pencils and metallic pencils, and believe me, I pulled out every pencil collection I own to get the right colors, plus blending.
abcdefgh
All material on this site copyright © 2013 by Laughing Crow.
This site designed and written by Laughing Crow.