Well, this one turned out to be a bit of a challenge to me, not because it is difficult; on the contrary, the pictures are big and simple and even young children would enjoy it. It is because I chose to do the entire book in acrylics—not my best medium, but I wanted to do the whole book the same, since it is based on the play that takes place over a day/night. The characters are in the same costume, so I wanted to keep that consistent. And acrylics are the only medium I use that have glitter, (the fairies, you know), except for crayons, but crayons aren't always that great for the stained glass books. But, in the end, I was pleased with my work.
In addition, I have a huge volume of the Complete Works of Shakespeare, that I got when I was in undergraduate school, helping out with the theatre department. So I went back and read this very funny play that I had the pleasure of seeing performed at the Shakespeare festival in Stratford, Ontario, back in . . . Oh, gosh, the Stone Age, sometime during the '70s. It is a very funny play—one of my Shakespeare favorites.
I had toyed with the idea of posting all sixteen images in the book, since they tell a story. I have a number of John Green's coloring books based on stories, and he isn't always true to them, but this one he mostly is. But I decided against that, and instead chose these five. You may read my review of the play here. If you're not familiar with it, I strongly suggest you do, or better yet, just read the whole play. I will include here just the descriptions that are printed in the book.
Page 3: Titania, queen of the fairies
Page 4: Demetrius says to Helena, "Hence get thee gone and follow me no more."
Page 6: Lysander and Hermia in the enchanted wood
Page 9: Bottom wearing the head of an ass that [Oberon] put on him (It should be Puck, not Oberon.)
Page 15: Bottom and his friends perform the play at the duke's wedding.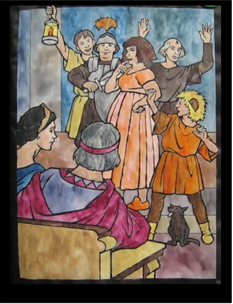 QWFHBN
All material on this site copyright © 2016 by Laughing Crow.
This site designed and written by Laughing Crow.