The Aran Islands is a fascinating, poignant, often bittersweet account of the lives of people living in a place probably unfamiliar to most of us. Written by Irish author and playwright, John Millington Synge, known best for The Playboy of the Western World and Riders to the Sea, it recreates the real lives of the people on these desolate islands, part of County Galway, off the coast of western Ireland. Synge spent extended visits on these three islands over a period of time, beginning in 1898 until 1902. He had been struggling to make a living in Paris, and came to the islands to begin a new venture. He says he has painted as true portrait as possible without using real names.
The book consists of stories told to him by mostly old men, and of observations of everyday life—the toils and triumphs of surviving day to day in a land which nature has made especially harsh and challenging. One of Synge's special goals was to learn Gaelic, or Irish, the language spoken here on these islands. (English is also spoken.) Efforts were being made at the time to preserve the native tongue.
There is so much interesting material here, told in such an engaging manner that it was difficult to put the book down once I started reading. Though it is not long, it contains a wealth of information, almost in the style of a journal, Synge's day to day activities with the people and his own personal commentary. The Irish are known for their lore, especially about fairies and other supernatural beings—an interesting mix of Roman Catholicism and Paganism, and Synge included many of the tales told to him, especially by two old men, one blind, and the other who died between Synge's visits. The Dover edition also includes numerous drawings by Jack B. Yeats.
There is a little map of the islands, of which there are three, at the beginning of the book, but I looked at a map of Ireland before I really understood exactly where these islands were located. The largest is Aranmor, or Inishmore, which is about nine miles long, and even at the time this book was written, it was becoming more modern due to the fishing industry. Synge spent most of his time, however, on the middle island, about three-and-a-half miles wide, and nearly round. It is called Inishmaan, and was the home of "Michael," the young man who taught Synge Irish. The most southward island is Inishere, also round but smaller than Inishmaan.
Synge begins his story as the steamer arrives on Inishmore at the main village of Kilronan—about a three hour trip from the mainland at Galway, and it is the bleak and dismal landscape that makes his first impression:
In about three hours Aran came in sight. a dreary rock appeared at first sloping up from the sea in the fog; then, as we drew nearer, a coast guard station and the village.
A little later I was wandering out along the one good roadway of the island, looking over low walls on either side into small flat fields of naked rock. I have seen nothing so desolate. Grey floods of water were sweeping everywhere upon the limestone, making at times a wild torrent of the road, which twined continually over low hills and cavities in the rock or passed between a few small fields of potatoes or grass hidden away in corners that had shelter. Whenever the cloud lifted I could see the edge of the sea below me on the right, and the naked ridge of the island above me on the other side.
It rains a lot on these islands—torrents of rain, in fact, along with the wild and angry sea that keeps everything in a state of dampness. At one point, Synge spoke of so much sea water being dashed onto the land that his hair was caked with salt. On a space that is only a few miles wide, there is no escape from it. And no protection either. There are little to no trees on the islands, although there are occasional shrubs. Most of the land, however, is just rock and poor soil—good enough to grow a little food, and grass for the livestock.
I read in the Wikipedia article that some people found Synge to be rather strange, so he probably fit right in with these people of the islands, at least at the turn of the century. If not strange, they were certainly primitive, and for many, non-stop talkers, it seems, fascinated with little things, but taking no interest in what they didn't understand.. They are very superstitious, as mentioned above, with a mix of Paganism and Catholicism. When someone is sick, they fetch the priest before the doctor and blame the fairies for many deaths and bad luck. Here Synge speaks here of a teenage girl with whom he had many conversations:
As we sit on stools on either side of the fire I hear her voice going backwards and forwards in the same sentence from the gaiety of a child to the plaintive intonation of an old race that is worn with sorrow. At one moment she is a simple peasant, at another she seems to be looking out at the world with a sense of prehistoric disillusion and despondency of the clouds and sea.
Our conversation is usually disjointed. One evening we talked of a town on the mainland.
'Ah, it's a queer place,' she said: 'I wouldn't choose to live in it. It's a queer place, and indeed I don't know the place that isn't.'
Another evening we talked of the people who live on the island or come to visit it.
'Father—is gone,' she said; 'he was a kind man but a queer man. Priests is queer people, and I don't know who isn't.'
Then after a long pause she told me with seriousness, as if speaking of a thing that surprised herself, and should surprise me, that she was very fond of boys.
Periodically, at least at the turn of the century, constables would come to evict those tenants who were in default. (These islands were and still are part of a barony, but I'm unsure of what type.) In any case, there was no cooperation of the islanders with the constables, and they mostly found ways to avoid the loss of their home. When Synge was there, a man did betray certain tenants, and he was threatened with revolvers if he showed his face again. In all, the people of these islands have no respect for the law or those who enforce it, finding it unnecessary.

This impulse to protect the criminal is universal in the west. It seems partly due to the association between justice and the hated English jurisdiction, but more directly to the primitive feeling of these people, who are never criminals yet always capable of crime, that he will not do wrong unless he is under the influence of a passion which is as irresponsible as a storm on the sea. If a man has killed his father, and is already sick and broken with remorse, they can see no reason why he should be dragged away and killed by the law.
Such a man, they say, will be quiet the rest of his life, and if you suggest that punishment is needed as an example, they ask, 'Would any one kill his father if he was able to help it?'
Death, to these people, was a natural part of their lives of struggle. While many of the funerals in the time Synge was there were for very old people, probably more young men were taken by the sea, a constant but unavoidable danger. Of course now, there is at least one airport on the islands, a photo which I saw on Wikipedia, But at the turn of the century, any travel was done at the mercy of the sea, which could be calm one moment and the next moment, could and often did blow into an intense storm. Curaghs, small boats with pairs of oars were used to transport people and goods to larger vessels that could not come close to shore, and it took a skilled team of oarsmen to navigate them through the violent waters.
I highly recommend reading this book for anyone interested in history, social development, and geography. The Dover edition is now out of print (why???), but you may read it for free at Project Gutenberg, as well as the two plays mentioned above and other works by Synge.
John Millington Synge died in 1909 at the age of 37 from Hodgkin's Disease.
Here are some modern views of the three Aran Islands, all courtesy of Wikipedia.
Inishmore: Dún Aengus
Landscape of Island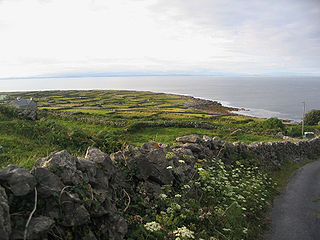 Inishmaan: Cows on the Island
The Cottage where Synge Stayed
Inishere: Landscape of the Island
The Eastern Coastline
All material on this site copyright © 2015 by Laughing Crow.
This site designed and written by Laughing Crow.