Leonard Richmond was born in Somerset, U.K. in 1889 and died in 1965. He was quite prolific and active in many areas, including art critic, educator, author, illustrator, poster designer, and Canadian war artist. He spent much of his life in London, though he traveled, and spent some time at the St. Ives Artist Colony in Cornwall. He worked with oils, watercolors, pastels, graphite and lithography. He also wrote numerous art instruction/education books. This one was originally titled "Sketching out of Doors" and was first published in 1954. His style was Plein-Air and Realism. You may read more about him here.
Dover has a great number of art instruction books, and I own quite a few. This is the first one I have begun working with. Richmond provides really "rough" sketch ideas, along with more refined, up to finished sketches, but they are still sketches. I wish he would have given a few more rudimentary tips, as I am not a skilled artist, though I took lots of art courses in college, and had become much better at one point. But it has been so long since I've practiced, I need to redevelop my skills. I am not a "natural" visual artist like some people. Of course, my artistic talents were always in music, where I was natural.
One of the issues I have with this book is that the printing makes them look more "rough" than they probably were. The works on the cover look much clearer than they do in the book. So, here are a few of the studies and sketches, including my rendition of one in particular. I was working with a soft pencil with a very big lead, but could not produce the darkness I was aiming for. I tried even using a Crayola black pencil, but it still wasn't enough. I will probably end up buying a few professional pencils. He gives recommendations on supplies.
In this first one, Richmond gives some basic instructions on curves, positioning, and adding a few details. The next one is part of a page on cloud studies, those being storm clouds. The third one is some figure studies in France.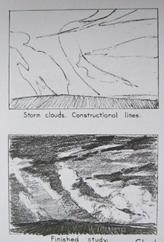 Next is another study, "The Approach to Elizabethtown, New York." The first is his sketch, followed by mine. I plan to work with his sketches, plus do my own based on what I've learned. The third is a finished sketch of Lake Louise, Canadian Rockies.
Café Cancalais, St. Servan, France
Adirondack Mountains, Wilmington, New York
Lincoln Pond, New York
And here are some of his finished works of art I found online:
London Blitz
St. Ives Harbor at Low Tide
Near Le Puy, France
All material on this site copyright © 2015 by Laughing Crow.
This site designed and written by Laughing Crow.