Of all the Dover books with CD-ROM I own, (and that's quite a few), this is one of my top favorites. The paintings are exotic, all set in those faraway lands (at least for me here in Ohio) of the Middle East and Northern Africa, which is what was known as the Orientalist countries, especially in the nineteenth century. Many of us now think of "Oriental" as being the Far East, countries such as Japan and China, but here, Orientalist refers to Egypt, Turkey, Persia, Algeria, Morocco, and others. Nearly every painting is from the nineteenth century, but some are earlier or later, the earliest being 1742, and the latest, 1912. Quite a few have no dates listed at all.
Wikipedia describes Orientalism as: "a term that is used by art historians, literary and cultural scholars for the imitation or depiction of aspects in Middle Eastern, South Asian, African and East Asian cultures (Eastern cultures). These depictions are usually done by writers, designers, and artists from the West. In particular, Orientalist painting, depicting more specifically 'the Middle East,' was one of the many specialisms of 19th-century Academic art, and the literature of Western countries took a similar interest in Oriental themes."
The term now, however, is not considered politically correct.
In any case, there is a wide variety of artists represented in this collection, in different styles and subject matter. Many portray harem scenes, mosques, deserts, cities, important people, and common people. I find them lovely and fascinating. As usual, I have chosen paintings of all different sorts so you may get an idea of what's available here. You may also view more from this set on the Egypt Index and Middle East, Northern Africa Index. Enjoy this beautiful art!
#016 Frederick Arthur Bridgman: The Siesta (Afternoon in Dreams); 1878
#027 Félix-Auguste Clément: Women Selling Water and Oranges on the Road to Heliopolis, Near Cairo, 1872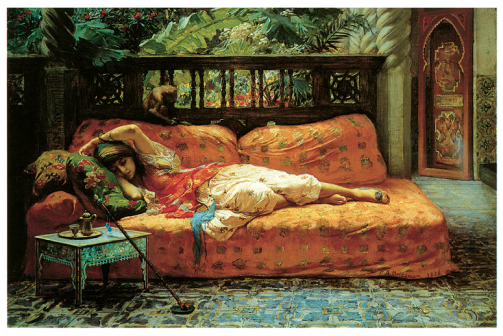 #044 Rudolf Ernst: Femmes filiant au Maroc
#066 Antoine-Jean Gros: Portrait of Doctor Clot-Bey; 1833
#046 James Fairman: Sunset
#078 Jules Laurens: Ruins of the Palace of Asraf
#080 Jean Lecomte de Noüy: The White Slave
#102 Jean-André Rixens: Death of Cleopatra; 1874
All material on this site copyright © 2015 by Laughing Crow.
This site designed and written by Laughing Crow.