The human body has been a favorite subject of artists for centuries. This CD-ROM and book is a great collection of nudes throughout the ages. Many are found in other collections I own, particularly the 120 Great Paintings of Love & Romance. However, there are more paintings here that are unique to this collection, so it was worth the purchase.
As is usually the case, there are very few males pictured, and when the are, their vital parts are covered, even if with just a leaf. Why is that? Hm? Why are boobies more interesting to paint than penises? Don't you wonder about things like that? I do.
The nudes here are portrayed in a variety of poses, some romantically, but most just women reclining or doing whatever without their clothes on. Quite a few are goddesses. I guess they were accustomed to run around naked. "Plump" seems to be more popular than slender to an artist's eye.
Interestingly, the 1700s seemed to be an era where naked bodies were less interesting to artists. There are only seven here representing that era. The greatest number are from the 1800s and modern, but quite a few from the 1600s. (I only included one from that era, however, because I have so many of them pictured on other pages on this site.) The earliest is from 1480.
Each image includes the artist, the name of the artwork, and the date. The index supplies size and medium. They are arranged alphabetically by artist.
Here is a well-rounded array of examples from different eras, poses, and styles. I had quite a difficult time choosing which to post because there are so many interesting works here. Hope you enjoy them. There are many others to be found throughout my site.
Sir Lawrence Alma-Tedema: In the Tepidarium, 1881 (#001)
Marie-Guillemine Benoist: Portrait of a Negress, 1800 (#003)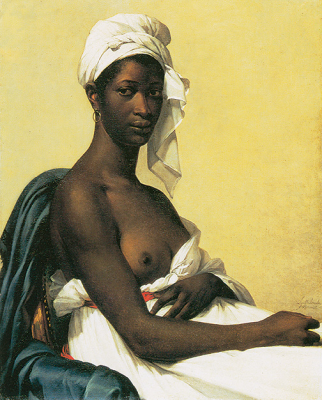 Franҫois Boucher: Diana Bathing, 1742 (#011)
Lucas Cranach the Elder: The Three Graces, 1535 (#025)
Frederick Carl Frieseke: Autumn, 1914 (#037)
Edwin Landseer: Lady Godiva's Prayer, c.1865 (#057)
André Lhote: Bacchante, 1910 (#063)
Piero di Cosimo: Simonetta Vespucci, c. 1480 (#081)
Henri Rousseau: The Dream, 1910 (#094)
Sir Peter Paul Rubens: Angelica and the Hermit, 1626-28 (#97)
Marguerite Zorach: Nude Reclining, 1922 (#119)
Anders Zorn: Nudes, 1902 (#120)
All material on this site copyright © 2016 by Laughing Crow.
This site designed and written by Laughing Crow.