I have always had a fascination for fantasy and magic, both in my functional life and in the arts and literature. This book and CD-ROM collection has works by some of the most famous fairy tale/fantasy illustrators, plus numerous other artists. It is arranged chronologically, the earliest example being from 1785, and the latest from 1912. In addition to fairy tale art, there are abundant interpretations of Shakespeare's A Midsummer Night's Dream by various artists. Others don't appear to have literary connections, but are just pure fantasy art. I use these quite a bit on my site, for instance on the Contact page (see link above). That one has been altered, because, as always, they come with the Dover Design Manager program which allows you to manipulate the images in infinite ways. To see even more of these lovely artworks, please go to the Cross Reference/Resource Index
Dover has a vast collection of fantasy art books in their inventory and I own numerous examples of many of these great artist/illustrators, including Edmund Dulac, Warwick Goble, William Blake, Arthur Rackham, and Richard Doyle, and that also includes coloring books, all of which will slowly but surely make their way onto this site. And I'll bet, even if you aren't familiar with these names, you will recognize the art style.
As is always the case, I will provide examples to best represent what is available in this collection. You may mouse-over any image for additional information about its number on the CD-ROM and in the book. Enjoy these gorgeous paintings!
George Cruikshank, Jr.: A Fairy Dance (no date)
Richard Doyle: In Fairyland: Rehearsal in Fairyland (1870)
John Anster Fitzgerald: Titania and Bottom, a scene from A Midsummer Night's Dream (no date)
Adelaide Claxton: Wonderland (no date)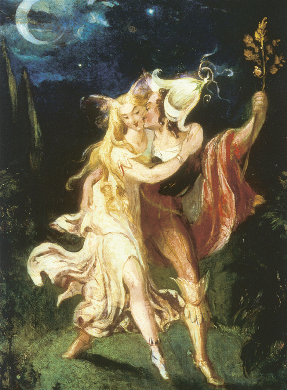 Theodore von Holst: Fairy Lovers (ca. 1840)
Arthur Rackham: Arthur Rackham's Book of Pictures: The Magic Cup (1913)
Edmund Dulac: The Snow Queen (1911)
Warwick Goble: Book of Fairy Poetry: "Off, ye icy spirits, fly" (1920)
KQIQK
All material on this site copyright © 2014 by Laughing Crow.
This site designed and written by Laughing Crow.