This is absolutely one of the best Dover coloring books I have ever done! I have added it to my short list of very top favorites. It has been around a while, too, first published in 1981, making it one of the earliest coloring books still available. Thomas Quirk's artwork is so professional—not "coloring book style," but fine art style, with meticulous details and perfect proportions. He has "signed" each picture with a hidden "TQ" in fancy lettering, usually on a rock. The only feature I didn't like was the fact that the text intruded upon many of the pictures. I tried to choose the ones clear of text, but some. . .well, I just liked the picture so much, I decided to post it with the text. I really didn't know how to remove it without making the page an odd shape.
Not only did I enjoy the beautiful drawings, but I loved the subject matter. Reptiles and amphibians are my favorite animals. I have pet turtles, and some snakes that come and go in and out of the house. I have lots and lots of frogs and toads here on the farm, and a little salamander that lives by my well. All these are represented in this book, along with lizards and one each alligator, crocodile and Indian Gavial, which I don't have here at the farm.
I looked all of these up online, and each one turned out so nice, it was very difficult to choose which to post. Some have a partial background, a few have a full background, and some have no background at all. Some pages have a single species, but most have two or more. There's a nice variety of animals pictured on these 45 pages (this was before Dover reduced their standard coloring books to 30 pages). The center picture takes up both pages; (it is the Galápagos Tortoise pictured on the cover). I hope you enjoy these pictures as much as I enjoyed coloring them.
Page 2: Indian Gavial or Gharial and American Crocodile
Page 5: Red-Banded Water Snake, Midland or Midwest Water Snake, and Blotched Water Snake
Page 8: Gaboon Viper
Page 11: Leopard Lizard and Collared Lizard
Page 13: Fence or Pine Lizard
Page 20: Jackson's Chameleon
Page 24: Musk or Stinkpot Turtle and Snapping Turtle
Page 28: Matamata Turtle
Page 30: Dusky Salamander and Northern Two-Lined Salamander
Page 35: Jefferson Salamander
Page 41: Mountain Chorus Frog, Northern Cricket Frog, Boreal Chorus Frog,
Upland Chorus Frog, Ornate Chorus Frog
Page 45: American Toad or Hoptoad, Fowler's Toad, Spadefoot Toad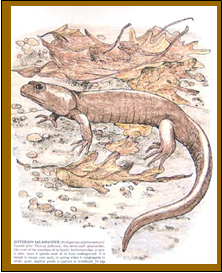 adeivjno
All material on this site copyright © 2015 by Laughing Crow.
This site designed and written by Laughing Crow.