Marty Noble has done quite a few ethnic art coloring books, and I own all that are available now. They are fun and the pictures are interesting. She often melds two different pieces of art together, in this case, a work of art surrounded by another example of Mexican art, for instance, fabric, which forms a border. I have mixed feelings about this method. It creates a nice coloring page, but I think I would prefer each art work in its natural form. If it is fabric for a garment, I would have liked to see the garment pictured. Noble does this on a regular basic, and I grumble on a regular basis, too, but I still keep buying her books, so I guess it's OK. I also wish she would supply more information about the pieces for those of us (me) who would like to do research. Other Dover coloring book artists do.
But, having said that, I really did like this book. I liked the fact that each picture was different. Often I feel my creativity begin to wane when I'm doing a book, for instance, on cars. Every page has tires and windshields and asphalt, etc. and there are only so many ways to be unique on these items. In books such as this, each page offers fresh creative possibilities.
Please note: even though in the textbox above, this book is listed as "out of print," it is one of the many, many Dover coloring books that has been converted to the Creative Haven format, which means the pages are perforated and only printed on one side, so you may paint them, or use markers or gel pens. There's a downside to this. Since the standard coloring books have 30 pages, and the Creative Haven books have 31, you will get a repeat of one page. They are more expensive than standard books, and I think it's a cheap trick on Dover's part. Many of the Creative Haven books are brand new designs, however, and they do have 31 different pictures. If you are considering buying a Creative Haven coloring book, Dover does state when it is a republication of an older work.
I really had a tough time choosing which pictures to post, I had so many favorites. I tried to get a variety of different types. A number of pictures were included on the front and back covers which appeared to be based on the original work, and for those, I used the colors as pictured. I doubt that the Creative Haven format includes these helpers, which is too bad. I found them quite beautiful and interesting.
I managed to narrow my choices down to seven. I have included a description of each picture as supplied in the book.
Page 8: Center image—decoration from incised gourd rattle from the Mixtec Village of Pinotepa de Don Louis, Oaxaca; Outer design—variants of diagonal bands with hook motif from woman's tunic (Mazatec)
Page 9: Center design—water bird design for earthenware from Tonala (Jalisco); Outer design—vine motif composed of stepped squares and stylized floral elements from a woman's shoulder cape (Nahua)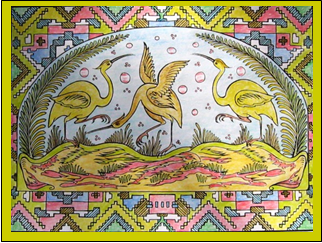 Page 15: "Sacred Heart"—nineteenth-century Mexican cut-paper design (papel picado)
Page 20: Center design painted on a tray (lacquerwork) from Olinala, Guerrero
Page 17: Amate-paper painting of a village with cross from the village of Ameyaltepec (Guerrero)
Page 18: Center design—from a paper cut made for the Festival of the Dead, Puebla; Border design—detail from nineteenth-century cut-paper calligraphy
Page 24: Detail of design from a tibor (ceramic jug), Guadalajara region, seventeenth century
agiagiagi
All material on this site copyright © 2015 by Laughing Crow.
This site designed and written by Laughing Crow.