I really like Dot Barlowe's nature coloring books. I believe I have just about every one she's done, at least that has been available since 2009, when I began my serious coloring project. This is a large collection—from back when many of Dover's regular coloring books had more than thirty pages. The forty-two images here consist of plants and animals one would normally find in non-desert backyards in the United States. They range from very simply to slightly complicated, making them ideal for even younger coloring artists. The pictures are nice and big, and the insect pictures are huge!
In fact, insects reign supreme here. There are nineteen insect pages, including an earthworm, and some larva stages of other insects. Next comes birds, represented on twelve pages. There are only eight mammals (what? no skunk?), and two reptiles, a snake and turtle, followed by one amphibian, a toad. They are depicted in their typical habitat in a variety of seasons, and are nicely drawn, as is typical of Barlowe's artwork.In all, a very nice book for all ages and skill levels.
As you might guess, I had a hard time choosing which pictures to post; they are all so interesting. Here are the ones I decided on, representing the variety contained in this volume. I know there are only two reptile pictures in the book, but I liked them both so much, I had to post them. As is typical with these standard coloring books, I did all pictures with crayon. I hope you enjoy viewing these pages as much as I enjoyed coloring them!
Page 2: Garter Snake
Page 6: Japanese Beetles
Page 9: Box Turtle
Page 11: Cicada
Page 13: Black-Capped Chickadees
Page 17: Little Brown Bat
Page 20: Tiger Swallowtail
Page 21: Grackles
Page 22: Eastern Chipmunks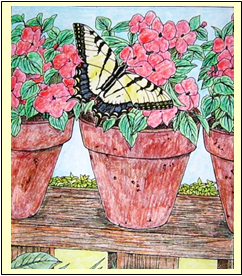 Page 26: Mockingbird
Page 34: Cedar Waxwings
Page 38: Cricket
All material on this site copyright © 2015 by Laughing Crow.
This site designed and written by Laughing Crow.