This is a very interesting, very enjoyable book. The pictures are nice and big, and most of them not too complicated. Even younger children who like unusual pictures might enjoy them, (and also enjoy learning about American Indians and their crafts). I looked at lots of Native pottery and artwork online as I was working on this one so I could get the feel for authentic color combinations.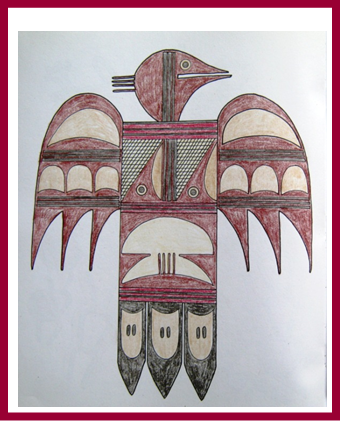 Pictured above:
Plate 3 Santo Domingo: Motif from jar (Rio Grande region, Northwestern New Mexico)
Plate 18 Hopi: Design from inside of bowl
Pictured below:
Plate 21 San Ildefonso Pueblo: Design from pottery bowl (Rio Grande region, New Mexico)
Plate 25 Pueblo: Bird design on pottery
cccccccc
All material on this site copyright © 2013 by Laughing Crow.
This site designed and written by Laughing Crow.