I am a huge Tom Tierney fan, and I've snatched up most of his fashion coloring books. This was the very first one I ever did. It is also one of the more challenging ones, simply because the popular colors of that era were mostly pale and limited. I really had to work to keep my pictures exciting and fresh. (Although as I enjoy looking at them now, three years after their completion, I can see they are not boring at all!) Here are some tips I learned with this book: Glitter crayons either alone or over another color really look like fur. Use white glitter crayon for the bridal veil. Metallic crayons work well for the satin clothing of the Empress and Emperor. I love the pages of hats, shoes and accessories, but I only color a couple items at a time or I run out of ideas to keep them interesting.
Before I first purchased this book, I really didn't know what "Empire" meant. I knew what an empire dress was 'cause I wore lots of them back in the '60s, (you know, with the waistline that comes right below your boobs). When I started working on it, I realized "Empire" meant Napoleon-ruled France. What made it even more interesting is, by chance, I just happened to be reading Daphne du Marier's book, The Glass Blowers, which was about the horrors of the French Revolution—not a pleasant time in French history—as told through the perception of the last surviving sibling of five. Unlike du Marier's other books, which have a psychic creepiness about them, this was a historic novel, and my favorite of all her writings!
In any case, the era might have been tough, but at least the people wore cool clothes! Here are a few examples:
This is a line of hidden text. This is a line of hidden text. This is a line of hidden text.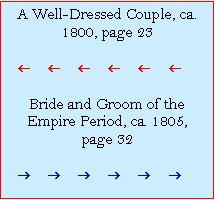 This is a line of hidden text. This is a line of hidden text. This is a line of hidden text.
xxxxxxxxxxxx
All material on this site copyright © 2013 by Laughing Crow.
This site designed and written by Laughing Crow.