I am a big fan of Mazurkiewicz's coloring books. They are always creative and fun, and this book is no exception. Each picture uses butterflies as the main motif, either in an abstract design or in a natural setting. Some of my favorites include the one with strawberries, another with citrus fruit, and the abstract on page 1 which I colored using only red, white and blue, with really awesome results. Some of the butterflies have realistic markings and others are in whimsical patterns.

Below I have included the three pictures mentioned above, plus three others. They are found on pages 1, 7, 17, 21, 23, and 26, respectively.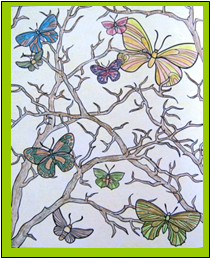 vmvmvmvmv
All material on this site copyright © 2013 by Laughing Crow.
This site designed and written by Laughing Crow.